Or at least the three I had in my bookmarks. But I feel like there's been a lot in recent weeks. Are there others to add to this list?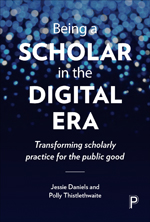 Being a Scholar in the Digital Era: Transforming Scholarly Practice for the Public Good (Jessie Daniels and Polly Thistlewaite, Eds). 
Strong normative bent in this one, for open research as well as social impact. Explicit focus on collaborating with activists. I look fwd to reading. Their blurb:
What opportunities, rather than disruptions, do digital technologies present? How do developments in digital media not only support scholarship and teaching but also further social justice? Written by two experts in the field, this accessible book offers practical guidance, examples, and reflection on this changing foundation of scholarly practice. It is the first to consider how new technologies can connect academics, journalists, and activists in ways that foster transformation on issues of social justice. Discussing digital innovations in higher education as well as what these changes mean in an age of austerity, this book provides both a vision of what scholars can be in the digital era and a road map to how they can enliven the public good.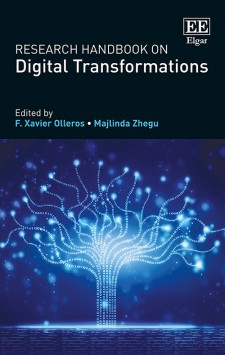 Research Handbook on Digital Transformations (F. Xavier Olleros and Majlinda Zhegu, Eds)
This is a fat handbook. 20 exemplative chapters in case study style, about half of which focus on sectors, have on "transversal topics" (blockchain, competition policy). It's an eclectic collection, but doesn't feel terribly cohesive to me, nor do I know any of the authors. Thier blurb:
The digital transition of our economies is now entering a phase of broad and deep societal impact. While there is one overall transition, there are many different sectoral transformations, from health and legal services to tax reports and taxi rides, as well as a rising number of transversal trends and policy issues, from widespread precarious employment and privacy concerns to market monopoly and cybercrime. They all are fertile ground for researchers, as established laws and regulations, organizational structures, business models, value networks and workflow routines are contested and displaced by newer alternatives. This Research Handbook offers a rich and interdisciplinary synthesis of some of the current thinking on the digital transformations underway.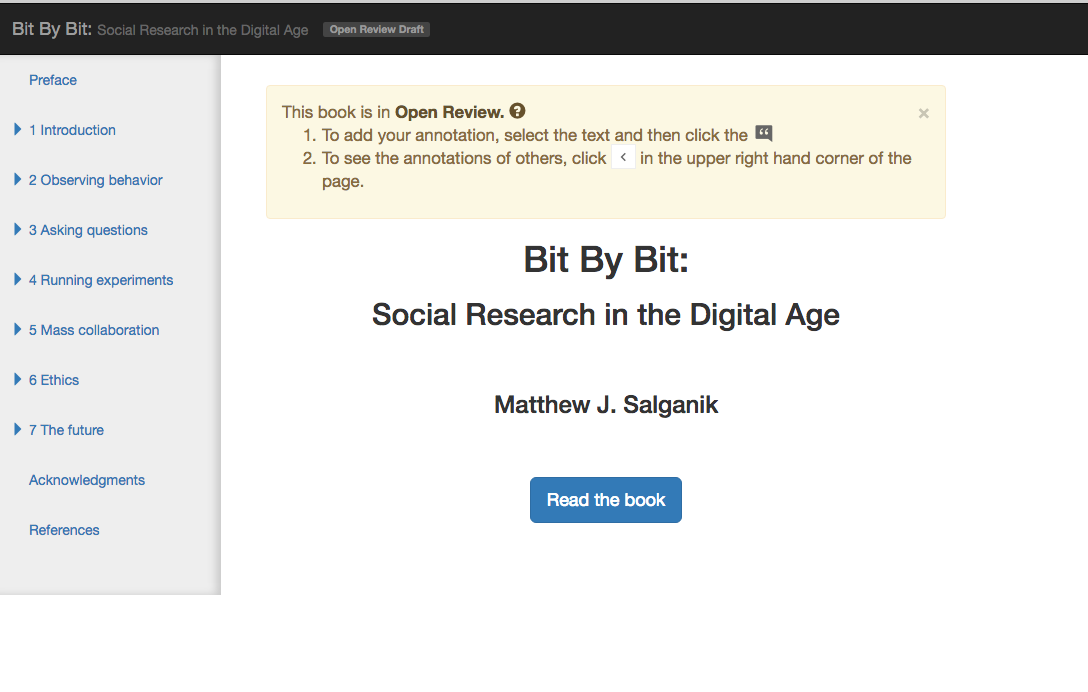 Bit By Bit: Social Research in the Digital Age (Matthew J. Salganik)
This is up now for comment in draft form, and open for comments and annotations in the text. I haven't read closely, but it looks like it's largely on understanding how data revolutions are complicating the borders between different types of groups working with data (different academic disciplines, technocrats and civil society actors). There's a thoughtful chapter on ethics, and practical advice for running experiments, but throughout is a lot of compelling categorical and conceptual thinking. From the intro:
In addition to developing a new methodology, this study [applying machine learning and data modelling to a Rwandan national survey] is kind of like a Rorschach inkblot test; what people see depends on their background. Many social scientists see a new measurement tool that can be used to test theories about economic development. Many data scientists see a cool new machine learning problem. Many business people see a powerful approach for unlocking value in the digital trace data that they have already collected. Many privacy advocates see a scary reminder that we live in a time of mass surveillance. Many policy makers see a way that new technology can help create a better world. In fact, this study is all of those things, and that is why it is a window into the future of social research.